owen's new favorite place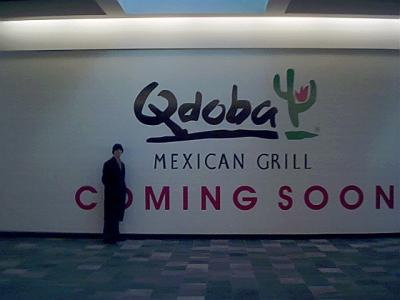 is called "qdoba" which is a chain founded in milwaukee. it also happens to be a restaurant that owen obsesses over, and he was really sad when we left madison because there are none here. well, not any more since there are preparations for one in the food court at the prudential center right here in boston. so no more burrito woes, and i can get my favorite vegetarian taco salad.
the other good news is i got my laptop back and it's fit as a fiddle.
also we went to ashland today, which is a small town about halfway between worcester and boston and on the commuter rail. the purpose was to see if we wanted to live there at some point if owen works in boston and i go to school in worcester. well i was gonna take pictures of it but it's not very scenic out there. also, it doesn't look like there's a lot of renting choices and it looks like the kind of place where a car is essential. but the good news is no decisions have to be made now.
Posted by char at February 15, 2004 11:38 PM